This is a subject near to our heart…
After having been in an accident, which is upsetting enough, you have to deal with insurance companies and then wait for the job to be completed, which will take more time than one thinks. Here are our tips for making sure you have received quality work and are prepared for the unexpected delay:
Insurance: know that your car is not the only car in a shop and it takes time for an insurance company to come out and look at your vehicle.

Parts: this can also be a delayed process depending on where in the Country or which Country they have to come from.

Paint work – not as easy as one thinks. Matching so many different colors and so many makes and models can be daunting. Look at your car in the sunlight – you will know if the color matches.

Uneven gaps – if you have auto body work look for proper alignment of doors. You can do this by opening and closing the doors to make sure there is proper operation.

Distance between fender and tire – if you have extensive front damage, checking the distance between the tire and the fender is necessary. Turning on headlights to make sure your light beams are aligned. This is not always effective but can be used as a quick test.

Cleanliness – make sure the Shop is returning your vehicle clean!
Allston Collision Center
This is a subject near to our heart… After having been in an accident, which is upsetting enough, you have to deal with insurance companies and then wait for the job to be completed, which will take more time than one thinks. Here are our tips for making sure you have received quality work and [...]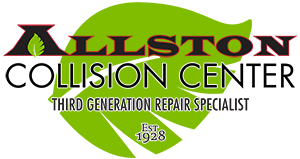 420 Cambridge Street
02134 Allston
Phone