For anyone who has had to go through the process of repairing a car after an accident knows it can be overwhelming and most people don't really know how to start. If you have never worked with Allston Collision Center, Inc. there are five things you should absolutely do and they are:
Document the damage to your car: Before anything else, fully document the damage to your car. Take pictures and make sure they are good quality, exchange pertinent documents (i.e., license and registration of the person you hit or who hit you). Good photos, clear documents, time, date and location of accident and a video couldn't hurt.
Report your accident to your insurance company: This step is required to find out your coverage and whether you have rental insurance. There are cases in which people choose not to use their insurance and while this can make sense in a small scratch or ding situation, sometimes you just have to rely on your insurance company. Additionally, if you notify your insurance company before you receive estimates, you will know what they expect of you. Insurance companies often have particular standards for what should or should not be included in an estimate. In some cases insurance companies can reject an estimate if it does not conform to what they are looking for.
Bring your documentation with you: If your car is in good enough condition to drive to the repair shop, do so. If your car is too badly damaged or you're afraid to drive have your car towed or leave it at home. Be aware some parts of the estimate may need to be completed with the car physically present, but there's no need to press your luck.
When you arrive to a shop for repair, show your documentation and anything you've received from your insurance company. Ask for references, how long they've been in business, where the repair people have been certified or taught. If the answers seem reasonable, make an appointment.
Comparison shop: When you're looking for repair estimates, make sure to ask around. A few great places are if you know other people who have been in an accident; your insurance company will have a preferred list of shops to check out and online reviews. Remember it's very easy to post online so any extreme review is probably just that. Logic dictates something in the middle or if there are several good reviews or conversely several bad that is a good indicator more than one person had those experiences.
Ask what services they're including in the estimate: Lastly, ask what they're including. Most estimates should include labor, parts and possibly paint. Don't simply pick the cheapest estimate – it might not cover the whole job.
This is a good time to introduce the Allston Collision Center way!
Documenting damage is always a good thing no matter what shop you choose to work with.
Call us or submit a web form from our website allstoncollisioncenter.com and let us know what happened. We will let you know what to do, whether it is to just drive in for your estimate, or if you require any assistance such as a tow we will be happy to coordinate those services on the spot.
If you choose Allston Collision Center your last step is to call your insurance company to report the claim and receive your claim number. Once you drop or tow your car to us, one of our staff will assist by writing an estimate, take your insurance claim number, insurance contact, pertinent information, and arrange a rental if needed.
If you have worked with Allston Collision Center, Inc., or know someone who has, you know you can just call and arrange a drop off, call your insurance company to report the claim, get your claim number – that makes it Two Steps!
We have built our business on customer service and a great reputation. Our goal is to make this experience, however, unpleasant, as painless as possible. We have over 40 years of experience with insurance writing and negotiations. Unlike some other companies, we handle all the negotiations with the insurance company and all information is shared between the parties. Allston Collision Center, Inc. is a Third Generation, Family Owned auto body shop and you will find our reviews some of the best in Boston.
Allston Collision Center
For anyone who has had to go through the process of repairing a car after an accident knows it can be overwhelming and most people don't really know how to start. If you have never worked with Allston Collision Center, Inc. there are five things you should absolutely do and they are: Document the damage [...]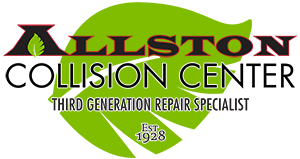 420 Cambridge Street
02134 Allston
Phone
Website