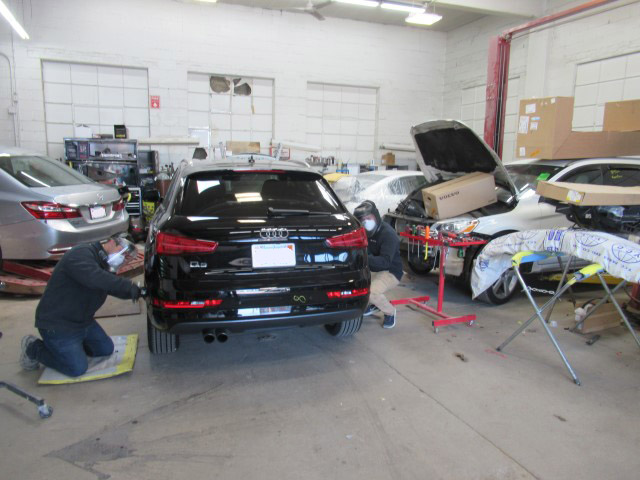 The realities of this pandemic are something most of us have never experienced. These are confusing and frightening times where uncertainty is the norm.
There are opposing sides regarding almost everything and one in particular…masks. Do we wear a mask, do we not, and, if not, are we throwing caution to the wind for ourselves, our employees and our clients? With all this uncertainty, I wanted to let you, our clients, know how Allston Collision Center is choosing to constructively workout the problems that have arisen as well as how we will be conducting ourselves and our business.
1. Currently insurance companies are not sending their employees into to the field for safety reasons. This means Allston Collision Center takes on the additional work. This adds time to a process that has been substantially slowed down by the pandemic.
2. As always Allston Collision Center continues to negotiate for their clients, however, the process is different now. We are no longer able to negotiate onsite so we have switched gears. We are working with insurance companies by phone, fax and internet. The fact of the matter is the phone and internet are wonderful tools but they can't match being in person. In person there is a mutual rapport between our licensed appraiser and the insurance appraiser. This rapport is one that understands each has a job to do and there is respect for the negotiation process. Unfortunately phone and email do not have those nuances. This can cause confusion and repeat work because damage isn't being seen live. I know it seems odd but photos really don't do justice.
3. Parts shipments and deliveries have been substantially cut back and there are less delivery drivers available.
In an effort to combat these challenges Allston Collision Center has instituted changes which will continue to service our customers in the best way possible.
1. We have instituted new hours: Monday – Friday, 7:30 a.m. – 4:00 p.m. As always we are keeping our operation lean and efficient in an effort to keep us all working and keep our clients and staff safe.
2. We have chosen to wear masks and ask our clients do the same. Better safe is my motto.
3. Appointments have been instituted for writing estimates, taking in new repairs and for picking up completed work. We are booking every half hour. This has proven to be more efficient for the office staff and clients.
4. Allston Collision Center continues to negotiate for our clients and we have taken on the added paperwork for the insurance companies to ensure our clients are serviced as we have always done.
5. Unfortunately we do not have control over outside vendors but in an effort to keep things moving we will pick up parts if absolutely necessary. This is not our first choice as it takes valuable man hours away from our work but in a pinch we will do what it takes.
It may seem we have slowed down, but rest assured we will pivot our operation as need be to manage through the current crisis.
Paul and I remain committed to the success of our business, the success of our employees and the customer service you have come to expect.
Stay Safe,
Elaine M. O'Neill, President